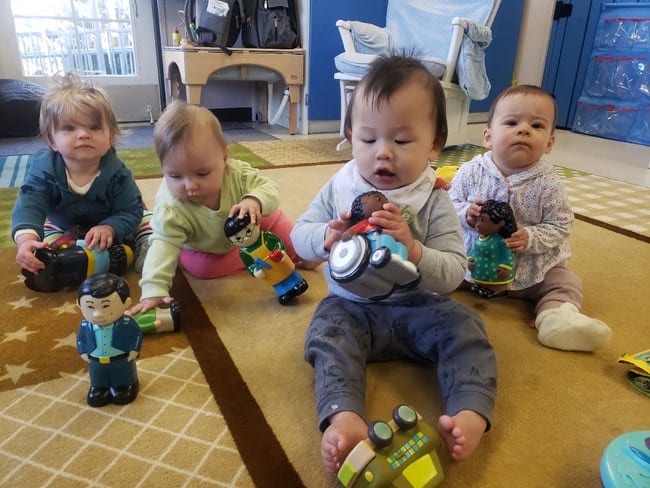 The Lands End School's Infant program prioritizes building trusting relationships with the children and their families. We encourage the child's autonomy by providing age appropriate materials and activities that spark the babies' natural curiosity and the freedom to discover and explore the things around them. Our indoor and outdoor environments are designed to aid infant development through its safe and accessible setup. The Infant program's daily schedule is custom to the differently aged infants to allow them to sleep, eat, and play whenever they want!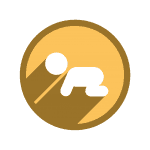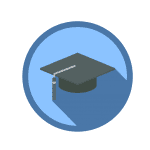 | NO | TIME | ACTIVITY |
| --- | --- | --- |
| 1 | 7:30 | ARRIVALS, DAILY HEALTH CHECKS, FREE PLAY INSIDE |
| 2 | 8:00 | HANDWASHING, TRANSITION TO AM SNACK |
| 3 | 8:30 | AM SNACK |
| 4 | 9:00 | DIAPER CHANGING, CLEAN UP |
| | | FREE PLAY INSIDE / OUTSIDE |
| 5 | 10:45 | HANDWASHING, TRANSITION TO LUNCH |
| 6 | 11:00 | LUNCH |
| 7 | 11:30 | DIAPER CHANGING, CLEAN UP |
| 8 | 12:00 | NAP TIME |
| | | FREE PLAY: INSIDE / OUTSIDE, CLEAN UP |
| 9 | 2:00 | DIAPER CHANGES AS CHILDREN WAKE UP |
| 10 | 2:15 | HANDWASHING, TRANSITION TO PM SNACK  |
| 11 | 2:30 | PM SNACK |
| 12 | 3:00 | CLEAN UP, FREE PLAY INSIDE / OUTSIDE |
| 13 | 4:00 | DIAPER CHANGES, PREPARE TO GO HOME |
| 14 | 6:00 | CENTER CLOSES |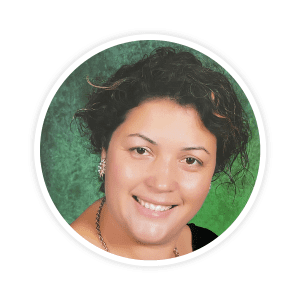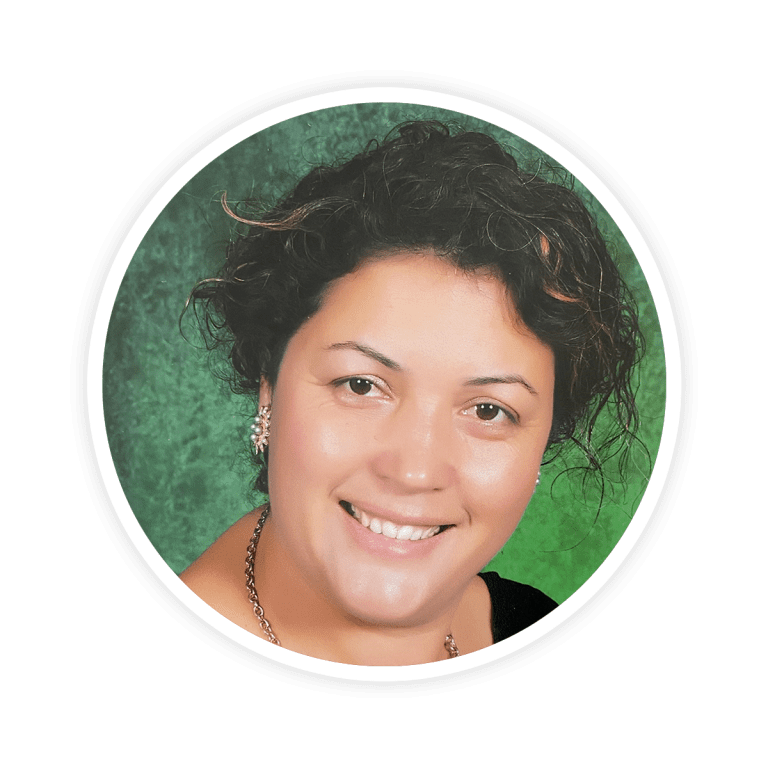 Family:I am proud to have raised two good, beautiful and bright children. My son, Manuel is a student at UCSB. My daughter is a student at UCLA.
Education: I graduated from Ventura Community College with an A.A. in Child Development Studies. I have taken further Child Development Studies at San Francisco Community College and have over 32 units in Child Development.
Work experience:
Child Care Careers – 1 year.
Lands End School – since 2006.
Hobbies and passions: I love teaching, caring, and working with children. I share with them my happy and positive smiling personality. Their education and development is my greatest priority. Children and families deserve professional services. Other than that, one of my hobbies is clothes shopping and decoration. I value family greatly.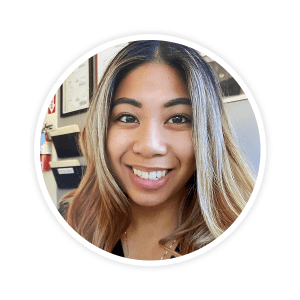 Prior to teaching I dedicated my early 20's specializing in Feline medicine. In my 7th year in the veterinary field I decided it was time to broaden my horizons. I started one of my first businesses, Pet Watch Medical, and also ventured my journey into a childcare career in 2018! In the beginning I started out assisting teachers at pre-schools around San Francisco, one of them being the Lands End School! I joined TLES as an Infant teacher in 2019.
Apart from being in the classroom I travel often and spend my time operating a variety of companies and businesses. In 2021 I was made President of a Non-Profit Corporation that deals with clean water accessibility called Anti Nuclaire.
More importantly than all of that, my hobbies and other passions include a specialty in designing delicate Asian cakes, also having a deep interest in Anime, K-dramas and collecting rare plants. I also enjoy sushi & matcha green tea lattes
Hi My name is Kimberly Regalado. I am a student at San Francisco State University and have grown up in SF.
I love kids, learning and interacting with them. I have a few years working with kids all ages through internships as an assisting teacher and being a teacher too.
I have two siblings that I love so much and that have taught me many things. Especially my little sister who I helped out with since she was small.
My passions include binge watching, shopping, going out to new places and spending time with loved ones.